NOTE: Pay attention to the colors! FREE items are in RED and CHEAP items are in GREEN. PURPLE is a CATEGORY HEADING. Items BOLDED are simply SALES.

The following deals are from the Northern Indiana circulars that run Sunday-Saturday. This week is a Meijer brand sale, which means very few coupon matchups.
MEAT, DELI, & SEAFOOD
Meijer Fresh Whole Chicken $0.85/lb

Oscar Mayer Hot Dogs 4/$5
$1/2 Hot Dogs SS 5/10/09 or 6/21/09
$0.75 each wyb 2 after coupon
PRODUCE
Blueberries 2/$3

Red & Green Grapes $0.99/lb

Apricots $0.99/lb
BREAD & BAKERY
Meijer Split Top Bread $0.98
PANTRY
Meijer Macaroni & Cheese 5/$2

Meijer Pastry Treats 4/$5

Meijer Tuna 10/$10, 11th FREE

Meijer Tuna 10/$10, 11th FREE

Meijer Salad Dressing, Ripe Olives, & Croutons 10/$10, 11th FREE

Kellogg's Cereal 2/$4
Buy 2, get 1 Dannon Light & Fit Product (up to $4.99) FREE
$1/1 RP 6/7/09
$1/1 Special K HERE
$0.60/6 Dannon Individuals SS 5/3/09
$0.60/1 Dannon 6-Pk SS 6/21/09
$1 each after coupon

Buy 2 Kellogg's Cereals
Use 2 $1/1 Kellogg's Coupons
Use 2 $0.60/1
Dannon
Coupon

Starbucks Double Shot 10/$10, 11th FREE
$1/1 SS 6/21/09
FREE after coupon

DAIRY
Meijer

Shredded Cheese 4/$6
Meijer

French Toast and/or Waffles 4/$5
HEALTH & BEAUTY
Gillette Fusion Razor $7.99
$4/1 P&G 6/7/09
$3.99 each after coupon
———-
See the entire

Meijer

circular for this week HERE.
New to

Meijer

? Visit

Meijer

101 HERE
for tips and tricks to save more.
If you find another great deal or have a wonderful shopping trip to

Meijer

, leave a comment and let us know!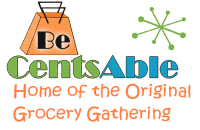 This post is a pa
rt of BeCentAble's Grocery Gathering.