NOTE: Pay attention to the colors! FREE items are in RED and CHEAP items are in GREEN. PURPLE is a CATEGORY HEADING. Items BOLDED are simply SALES.

Marsh Supermarket is still offering a meat combo pack including 6 combinations of Pork, Chicken, and Beef to choose from for only $19.95. Save up to $15 per combo pack. See store for details!
MARSH VALUE TIME (7/9-9/16)
Food Club Mustard $0.98

Food Club BBQ $0.98

Valu time Macaroni & Cheese $0.39

Valu Time Canned Vegetables $0.49

Valu Time Paper Towels $0.63
PRODUCE
Washington Bing Cherries $0.97/lb

Fresh Georgia Peaches 5 lbs $3.99
BAKERY
Aunt Millie's Bread $1.19
$0.35/1 ($0.70) RP 5/10/09
$0.49 each after coupon
PANTRY
Betty Crocker Hamburger Helper 5/$5
$0.75/3 SS 5/31/09 or 6/7/09
$0.75 each wyb 3 after coupon
DAIRY
Marsh Supermarket Gallon Milk $1.98
Get FREE Milk wyb 2 Kellogg's Pop-Tart (2/$5) Products (must be in 1 transaction with your Marsh Supermarket Fresh I.D.E.A. card)
$1/2 Pop-Tarts RP 6/7/09
$4 for 2 Pop-Tarts and 1 Gallon of Milk after coupon & sale
Marsh Supermarket Kids' Club Treat-of-the-Week:
Hacky
Sack
See the entire Marsh Supermarket circular HERE. New to Marsh? Check out Marsh Supermarket 101 HERE to get some tips and tricks to save.
If you find another great deal or had a wonderful shopping trip to Marsh, leave a comment and let us know!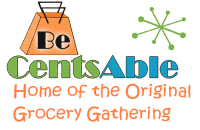 This post is a part of

BeCentAble's

Grocery Gathering.