NOTE: Pay attention to the colors! FREE items are in RED and CHEAP items are in GREEN. PURPLE is a CATEGORY HEADING. Items BOLDED are simply SALES.
Don't forget to clip your in-ad coupons!
PRODUCE
Dole Head Lettuce $0.99

Strawberries 2 lb $3.79

Dole Whole Mushrooms 2/$3

Lemons 2/$1

PANTRY
Kellogg's Cereal (Select Varieties) 5/$10
$1/1 RP 6/7/09
$1 each after coupon
Hunts Manwich 3/$3
$0.40/2 SS 5/31/09 (must buy 2)
$0.80 each wyb 2 after coupon
Chicken of the Sea Light Tuna or Sardines 4/$3

Smuckers Toppings or Magic Shell 3/$5
$1/1 Ice Cream wyb 2 Smuckers Toppings
$1.67 each plus discount ice cream wyb 2 after coupon
DAIRY
Prairie Farms Sour Cream or French Onion Dip 2/$2
$0.35/1 SS 6/28/09
$0.65 each after coupon

Prairie Farms Cottage Cheese 3/$5
$0.40/1 SS 6/28/09
$1.26 each after coupon

Nestle Coffee-Mate Creamer 2/$4
$0.50/1 RP 6/28/09
$1/1 HERE
$1.50/2 HERE (must buy 2)
$1-$1.50 each after coupon

View the entire weekly circular HERE.
Baesler's offers Pump Perks on various items. You'll need a Preferred Perks card to participate. Get more details HERE.
If you find another great deal or had a wonderful shopping trip to Baesler's Market, leave a comment and let us know!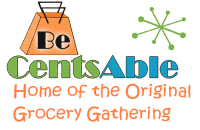 This post is a part of BeCentAble's Grocery Gathering.