NOTE: Pay attention to the colors! FREE items are in RED and CHEAP items are in GREEN. PURPLE is a CATEGORY HEADING. Items BOLDED are simply SALES.
B1G1 SALE COUPON MATCH-UP
Marsh Supermarket has many B1G1 sales going on this week. The ones with matching coupons are listed below. Remember, at Marsh, you can use 1 coupon per product, even during a B1G1 sale.

Orville Redenbacher's Popping Corn B1G1
$0.50/1 ($1) 3 Pk or Larger SS 5/17/09
$0.50/1 ($1) Natural 3 Pk or Larger SS 5/17/09
Final Price Varies

Kool-Aid Singles B1G1
$0.50/10 singles or 2 – 5pks HERE & HERE
Final Price Varies

Kool-Aid Canisters B1G1
Free item must be identical as item purchased
$1/2 HERE & HERE
Final Price Varies

Ken's Marinade or Salad Dressing B1G1
$1/2 Dressings SS 5/3/09
$1/1 Light Accents (if included use 2) SS 5/3/09
Final Price Varies

Chi Chi's Salsa B1G1
$0.55/1 SS 5/17/09 (use 2)
Final Price Varies

Oscar Mayer Bologna B1G1 $2.79
$1/2 SS 5/31/09
$0.90 each wyb 2 after coupon
MEAT, DELI, & SEAFOOD
Cook's Shank Portion Ham $0.98/lb

Tyson Boneless Skinless Chicken Breasts 2.5 lb Bag $5.98

PRODUCE
Strawberries 1 lb B1G1 $2.99

Jumbo Green Bell Peppers or Cucumbers $0.48

In-Husk Bi-Color Yellow or White Corn 5/$2

Seedless Cucumbers B1G1 $1.99
BAKERY
Pillsbury Grand Biscuits 5/$5
$0.50/3 ($1) SS 3/15/09 & SS Green 4/5/09
$0.75/3 SS 5/31/09
$0.67-$$0.75 each wyb 3 after coupon
PANTRY
Glaceau Vitamin Water or Sobe Life Waters $0.99
$1/1 Glaceau SS Green 4/5/09
B1G1 SoBe Life Water HERE
FREE – $0.49 after coupon

Kraft Deluxe Macaroni & Cheese Dinner 3/$4.98
$1/1 HERE & HERE
$0.66 each after coupon

DAIRY
Dozen Marsh Supermarket Large Eggs $0.88

Dannon Yogurt Singles 10/$4
$0.60/6 Light & Fit SS 5/3/09
$0.30 each wyb 6 after coupon
Marsh Supermarket Kids' Club Treat-of-the-Week: Activity Sheet
See the entire Marsh Supermarket circular HERE. New to Marsh? Check out Marsh Supermarket 101 HERE to get some tips and tricks to save.
If you find another great deal or had a wonderful shopping trip to Marsh, leave a comment and let us know!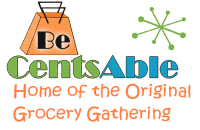 This post is a part of BeCentAble's Grocery Gathering.