NOTE: Pay attention to the colors! FREE items are in RED and CHEAP items are in GREEN. PURPLE is a CATEGORY HEADING. Items BOLDED are simply SALES.
Kroger Value Whole Fryer $0.88
Ground Beef $1.58/lb
PRODUCE
1 lb Strawberry Clamshell $0.97
California Peaches or Nectarines $0.97/lb
Vidalia Onions $0.58/lb
Bunch Tomatoes $0.97/lb
BREAD & BAKERY
———-
PANTRY
McCormicks Grill Mates or Grinders 10/$10
$0.50/1 Grill Mates RP 05/03/09
$0.75/1 Select Grinders RP 5/10/09
FREE – $0.25 after coupon
Chef Boyardee 10/$10
$0.35/3 ($0.70) SS 5/31/09
$0.77 each wyb 3 after coupon
FROZEN
———-
DAIRY
Horizon Organic Singles 10/$10
Kroger 1/2 Gallon Milk or Orange Juice 10/$10
Suave Deodorant 10/$10
$0.50/1 ($1) RP 03/29/09 (exp. 6/21/09)
Suave Shampoo or Conditioner 10/$10
$0.50/2 RP 3/29/09 or 5/17/09
HOUSEHOLD
———-
View the entire Kroger circular HERE.
New to Kroger? Check out Kroger 101 HERE to get some tips & tricks to save and to get more details on e-coupons ("load here") visit Coupons 203: e-coupons HERE.
If you find another great deal or have a wonderful shopping trip to Kroger, leave a comment and let us know!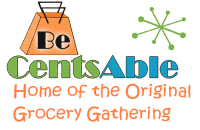 This post is a part of BeCentAble's Grocery Gathering.