NOTE: Pay attention to the colors! FREE items are in RED and CHEAP items are in GREEN. PURPLE is a CATEGORY HEADING. Items BOLDED are simply SALES.

Dont' forget to clip the following in-ad coupons:
-Get 1 FREE 12-pk of Diet Pepsi wyb any 3 12-pks of Pepsi Cola
PANTRY
Knorr Pasta or Rice Sides 10/$10
$0.50/2 ($1) RP 5/17/09
$0.50 each wyb 2 after coupon

Flavorite Yellow Mustard $0.99

Creamette Pasta 10/$10

Hunts Tomato Sauce 4/$2

Hunts or Rotel Tomatoes 5/$5

General Mills Cereal 5/$10
$1/3 SS 5/3/09 & 5/31/09
$1.67 each after coupon
View the entire weekly circular HERE.
Baesler's offers Pump Perks on various items. You'll need a Preferred Perks card to participate. Get more details HERE.
If you find another great deal or had a wonderful shopping trip to Baesler's Market, leave a comment and let us know!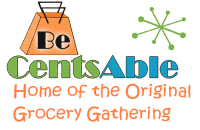 This post is a part of BeCentAble's Grocery Gathering.