Get $2 ECB wyb 2 (limit 3)
FREE wyb 2 after 2 coupons & ECB
Colgate Sensative Whitening, Enamel Protection 6 oz, or Visible White 4 oz $3.99
Get $2 ECB
Hunts Pudding Snacks, Act II Popcorn, David Sunflower Kernels or Seeds, & Chef Boyardee 4/$5 AND/OR Poppycock or Orville Redenbacher's Popcorn 3/$5
Get $5 ECB wyb $10 Worth (limit 1)
$0.40/1 Orville Redenbacher's SS 4/19/09
Buy 4 Chef Boyardee
Use 2 – $1/4 Coupons
Pay $8.00 OOP or with ECB
Get $5 ECB
Final Price $0.30 each after coupon & ECB
OTHER DEALS
Pepsi Products 12 Pk $2.60
Use Pepsi-Frito Lay Rebate coupons ($2/1) if you have them still!
$2.60 each wyb 5 after sale
Purex B1G1 $6.99
B1G1 Internet Printable Coupon (no longer available)
Hershey's Extra Large Bar B1G1 $1.99
$1/1 Special Dark SS 4/19/09


FREE after 2 coupons
L
ysol Neutra Air or AirWick Freshmatic Starter Kit $5.99
$4/1 Lysol Neutra Air SS 5/4/09
$4/1 AirWick Freshmatic SS Green 4/5/09 (exp. 5/17/09)
New to CVS? Visit CVS 101 for some tips to get you started! Also visit CVS 201: The Coupons to find out where to find valuable CVS-issued store coupons!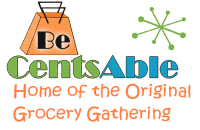 This post is a part of BeCentAble's Grocery Gathering.
Find a great deal or have a wonderful scenario? Add a comment to share!