NOTE: Pay attention to the colors! FREE items are in RED and CHEAP items are in GREEN. PURPLE is a CATEGORY HEADING. Items BOLDED are simply SALES.
After last week, this week's Meijer deals had to be anticlimactic, but here it goes…
MEAT, DELI, & SEAFOOD
Check out the Meijer Grill Deal HERE!
PRODUCE
Peaches or Nectarines $0.99/lb
Cantaloupes 2/$4

Strawberries 2 lb $2.99

California Apricots $0.99/lb

Aunt Millie's Buns or Sunbeam White Bread $0.99
$0.35/1 ($0.70) Hearth Buns RP 4/26/09
$0.35/1 ($0.70) Bread RP 4/26/09 & 5/10/09
$0.35/1 ($0.70) Hamburger or Hot Dog Buns RP 5/10/09
Kellogg's Cereals or Special K Bars 5/$10

$1/1 Cereal Printables from Coupons.com (no longer available)
$1.50/2 Mini-Wheats
HERE
(must buy 2)
$1.00-$$1.25 each after coupon

Chi-Chi's Salsa 5/$5
$0.55/1 SS 5/17/09

FROZEN
———-
I Can't Believe It's Not Butter 3/$4
$0.75/1 RP 3/29/09
———-
HEALTH & BEAUTY
———-
Cottonelle 12 Pk $5.99
$0.50/1 ($1) SS 4/26/09
$4.99 each after coupon ($0.42/roll)
———-
See the entire Meijer circular for this week HERE.
New to Meijer? Visit Meijer 101 HERE for tips and tricks to save more.
If you find another great deal or have a wonderful shopping trip to Meijer, leave a comment and let us know!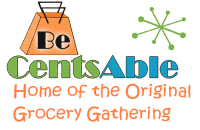 This post is a part of BeCentAble's Grocery Gathering.