NOTE: Pay attention to the colors! FREE items are in RED and CHEAP items are in GREEN. PURPLE is a CATEGORY HEADING. Items BOLDED are simply SALES.
MEAT, SEAFOOD, & DELI
Assorted Pork Chops $0.98/lb
$6/1 HERE wyb 13.5 lb or Larger Kingsford Match Light Charcoal & Participating Product
FREE wyb 6 lbs and 13.5 lb or Larger Kingsford Match Light Charcoal & Participating Product after coupon
*Note: Marsh Coupon Policy states that they do not have to accept coupons over $5. Ask before attempting to use this coupon at your Marsh! Some Marsh Supermarket locations will still accept it, since it requires the purchase of 3 items.
PRODUCE
———-
BAKERY
Wonder Classic White Bread $0.99

Aunt Millie's Bread or Buns $1.39
$0.35/1 ($0.70) RP 5/10/09
$0.69 each after coupon
DAIRY
Marsh Supermarket Gallon Milk $1.98

Minute Maid Fruit Drinks 5/$5

Kraft Cheese $2.48
$1/2 HERE or HERE
$1.98 each wyb 2 after coupon
PANTRY
Soy Joy Bars 10/$7

General Mills Cereals or Betty Crocker Fruit Snacks 4/$6 wyb 4
$1/3 GM Cereals HERE & SS 5/3/09
$1.25 each wyb 4 after coupon

Crystal Light B1G1
$1/1 HERE or HERE (use 2)
$2/2 HERE or HERE
Stack w/ FREE Crystal Light Skin Essentials wyb 2 Crystal Light Drinks HERE or HERE
Final Price Varies (plus FREE Skin Essentials)

Marsh Supermarket Kids' Club Treat-of-the-Week: Single String Cheese
See the entire Marsh Supermarket circular HERE. New to Marsh? Check out Marsh Supermarket 101 HERE to get some tips and tricks to save.
If you find another great deal or had a wonderful shopping trip to Marsh, leave a comment and let us know!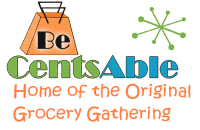 This post is a part of BeCentAble's Grocery Gathering.