ON-GOING SALE (5/14-5/20)
Kroger Grade A Dozen Large Eggs $0.88
Dole Classic Slad Mix & Kroger Pourable Dressing $0.88
Chef Boyardee Canned Pasta w/ Meat $0.88
$0.63 each wyb 4 after coupon
Cook's Ham Shank Portion $0.99/lb
Crab Stuffers 10 ct Pckage B1G1 $7.50
PRODUCE
California Strawberries 1 lb $1.17
Fresh Broccoli $0.97
Fresh Cucumbers or Green Peppers 3/$2
BREAD & BAKERY
———-
PANTRY
Sweet Baby Ray's BBQ Sauce 10/$10
$1/1 Grilling Sauce SS 5/10/09
Kraft Pourable Dressing $1.69
$1.50/1 SS 5/10/09
$0.19-$0.69 each after coupon
FROZEN
———-
DAIRY
BABY & KIDS
Kroger Comfort Value Box Diapers $14.97
HEALTH & BEAUTY
Playtex Tampons $2.99
$1/1 SS 3/22/09
Garnier Fructis Shampoo or Conditioner $1.99
$1/1 RP 5/3/09
HOUSEHOLD
View the entire Kroger circular HERE.
New to Kroger? Check out Kroger 101 HERE to get some tips & tricks to save and to get more details on e-coupons ("load here") visit Coupons 203: e-coupons HERE.
If you find another great deal or had a wonderful shopping trip to Kroger, leave a comment and let us know!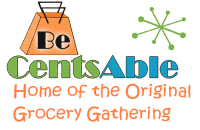 This post is a part of

BeCentAble's

Grocery Gathering.