MEAT, SEAFOOD, & DELI

Combination Prok Chops, Ribs, & Roast Sale $0.98/lb



Boneless Rump or Round Roast or Boneless Round Steak $1.98/lb



Eckrich Smoked Sausage $2.48

$0.55/1 SS 03/29/09

$1.93 each after coupon



Ball Park All Meat Franks $2.29

$1/2 RP 4/26/09

$1.79 each wyb 2 after coupon
PRODUCE

Strawberries 1 lb Package $1.28



California Navel Oranges $0.18



Mangoes 5/$5



Broccoli Crowns 5/$5



Cucumbers or Jumbo Green Bell Peppers $0.69



Vidalia Onions Jumbo $0.99/lb



BAKERY

Aunt Millie's Bread or Buns B1G1 $3.19

$0.35/1 ($0.70) Hearth Buns RP 04/26/09

$0.35/1 ($0.70) Bread RP 04/26/09

$0.90 each wyb 2 and use 2 coupons



DAIRY

Marsh Supermarket Gallon Milk $1.98
PANTRY

Food Club Canned Vegetables $0.68



Ortega Products 25% Off

$0.75/2 SS 04/19/09

Final Price Varies



General Mills Cereals $1.99

$1/3 SS Green 04/05/09

$1.66 each wyb 3 after coupon



Hunts Snack 4-Packs 5/$5

$0.50/2 ($1) Kroger 03/22/09 (exp. 04/30/09)

$0.50 each wyb 2 after coupon
FROZEN

Green Giant Frozen Vegetables 5/$5

$0.50/2 ($1) SS Green 04/05/09

$0.50/1 HERE

$0.60/2 HERE

FREE – $0.70 each wyb 2 after coupon



Totino's Pizza Snacks 5/$5

$0.40/2 ($0.80) G 02/08/09 (exp. 05/02/09)

$0.60 each wyb 2 after coupon



HEALTH & BEAUTY

Citre Shine Shampoo or Conditioner B1G1 $2.99

$1/1 SS 04/26/09 (use 2 coupons)

$1/2 SS 04/26/09

$0.50-$1 each wyb 2 after coupon


Marsh Supermarket Kids' Club Treat-of-the-Week: CapriSun Sunrise Orange Pouch
See the entire Marsh Supermarket circular HERE. New to Marsh? Check out Marsh Supermarket 101 HERE to get some tips and tricks to save.
If you find another great deal or had a wonderful shopping trip to Marsh, leave a comment and let us know!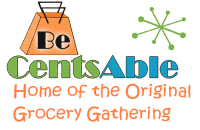 This post is a part of BeCentAble's Grocery Gathering.