ECB DEALS
Accu-Chek Aviva Diabetes Monitoring Kit $9.99
Get $9.99 ECB (limit 1)
Free after ECB

Adidas Action 3 $4.99
Get $2 ECB (limit 2)
$2.99 each after ECB
Afrin Pure Sea Nasal Rinse
Get $3 ECB (limit 5)
Ameal BP 60 ct $29.99
Get $10 ECB (limit 1)
$3/1 HERE
$16.99 each after coupon
Apatrim Weight Loss Supplement 60 ct $24.99
Get $5 ECB (limit 5)
Balneol or Unifiber
Get $2 ECB (limit 5)
$2/1 Balneol or Unifiber HERE
Caress or Lever 2000 Body Wash or Bar Soap
Get $3 ECB wyb $10 Worth (limit 5)
$0.50/1 Lever 2000 Bar Mulitpack RP 3/01/09
Chlorseptic Allergen Block $15.99
Get $6 ECB (limit 5)
Claritin Liquid-Gels 10 ct $11.99
Get $2 ECB (limit 5)Coppertone Nutrashield lotion
Get $3 ECB (limit 1)
CVS Adult Cleansing Wipes Refill
Get $1 ECB
CVS Antibiotic Ointment or Cream $6.79
Get $1 ECB (limit 5)
CVS Cleansing Cloths $1.99
Get $1 ECB (limit 5)
CVS Eye Itch Relief $11.99
Get $1 ECB (limit 5)
CVS Gel Insoles $10.99
Get $1 ECB (limit 5)
CVS Miconazole or Clotrimazole 3-Day Treatment
Get $2 ECB (limit 5)
Cylapril Weight Loss tablets $39.99
Get $10 ECB (limit 1)
Dasani 20 oz
Get $1 ECB wyb 3 (limit 5)
Degree or Dove Clinical Protection
Get $2 ECB wyb 2 (limit 1)
$1/1 Degree RP 3/1/09
$1.50/2 Dove Deodorant and/or Body Mist RP 1/18/09
Dial or Tone Body Wash
Get $1 ECB (limit 5)
$1/2 Dial Body Wash SS 3/8/09
Digestive Advantage
Get $2 ECB (limit 5)
DNA Paternity Test Kit $29.99
Get $5 ECB (limit 5)
Extreme Energy 6hr Shot, 2 pk $4.99
Get $5 ECB wyb 3 (limit 3)
Fleet Saline Enema $2.59 or Liquid Glycerin Suppositories $5.99
Get $1 ECB (limit 5)
$0.35 /1 Fleet Product SS 1/18/09

Futuro Compression Hosiery
Get $5 ECB wyb $15 (limit 5)
Hibiclens Skin Cleanser or Hibistat Hand Wipes $10.49
Get $1 ECB (limit 5)
Howard Leight Earplugs $4.99
Get $1 ECB (limit 5)
Lindt Lindor Truffles $4.29
Get $1 ECB wyb 2 (limit 5)

Maxell Mini 60 min Video Cassette Tapes 2 pk
Get $1 ECB (limit 5)
Mederma Skin Care for Scars $18.99
Get $3 ECB (limit 1)
$3/1 Mederma HERE
Mega-T Green Tea Drink Mix Packets $15.99 or Caplets $6.29
Get $5 ECB wyb $10 (limit 5)
$2.50/1 or $1/1 Mega T HERE
Mentos Gum
Get $1 ECB wyb 3 (limit 5)
$1/1 Mentos Gum SS 3/1/09
$0.55/1 Mentos Gum SS 2/8/09
$1/2 Mentos Gum SS 3/1/09
Monistat 7 – 7 Day Cream w/ Applicator or Comibnation 4 Pk $14.99
Get $3 ECB (limit 5)
$3/1 Monistat SS 6/28/08
$4/1 Monistat SS 10/26/08 or RP 1/04/09
Motrin 100 ct $9.99 or St. Joseph 81 mg 100-300 ct or Chewable 108 ct
Get $3 ECB (limit 5)
$1/1 St. Joseph RP 5/04/08
Murine Earigate $16.99
Get $7 ECB (limit 5)
Natural Dentist Rinse $6.99
Get $4 ECB (limit 3)
$2/1 Natural Dentisit HERE
MIR Get $10 wyb 2 HERE
FREE Plus Overage after MIR and ECB
Nauzene 50 ct $8.99
Get $1 ECB (limit 5)
Neutrogena Sun Care or Skin Care
Get $5 ECB wyb $15 (limit 1)
Ogilvie Perm or Hair Straightener $10.99
Get $2 ECB (limit 5)
Revlon Frost & Glow
Get $2 ECB (limit 5)

Sarna Anti-Itch Lotion or Antibacterial Cleanser $11.99
Get $2 ECB (limit 5)
Scarguard $29.99
Get $5 ECB (limit 5)
Similasan Eye or Ear Relief $10.49
Get $2 ECB (limit 1)
$1/1 Similasan HERE
Splat Color & Bleach Kit
Get $3 ECB (limit 3)
Stayfree Pads 14-24 ct or Carefree Pantiliners 38-60 ct
Get $2 ECB (limit 5)
$2/2 Stayfree Product RP 2/22/09
$1/2 Carefree Products RP 2/22/09

UTI Home Screening Test Stick $11.99
Get $1 ECB (limit 5)
Vagisil Screening Kit $16.99
Get $2 ECB (limit 5)

CLIP FREE COUPONS
The following coupons are included in the April Monthly Advertisement, which can be found in store. However, you don't have to clip or bring the coupon in to enjoy the discount. Simply scan your CVS card and it's automatically deducted.
$1/1 Almay Anti
-Perspirant & Deodorant Roll-On
$1/1 Andrea Ardell Eyelashes or Brow Accesories
$1/1 Brut Deodorant
$3/1 Chantilly, Coves Baby Soft, Tabu or Black Lace
$1/1 CVS Eye Pencil Sharpener
$2/1 CVS Nail Supplement 28 ct
$2/1 Excedrin Menstrual Gels 20 ct
$0.50/1 Nutra Nails
$1/1 Nutra Nail Antimicrobial Nail Solution or Total Nail Care 5 – in-1 Treatment
$1/1 Styli-style Eye Liner Pencil, Eye Shadow, or 5 pc Pencil Sharpener
New to

CVS

? Visit
CVS 101
find details to get you started! Or if you want to know where to find CVS-issued coupons read CVS 201: The Coupons.
Watch each week for great weekly deals.
Have a great deal or scenario? Leave a comment and let us know!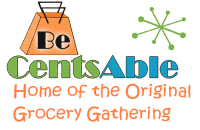 This post is a part of BeCentAble's Grocery Gathering.