Bargain Bash is happening this week at Baesler's. Check out the deals below!

MEAT & SEAFOOD
Ball Park Franks 2/$5
$1.00 /2 RP 03/15/09
$2 each wyb 2 after coupon
Hillshire Farm Smoked Sausage 2/$6
$0.35/1 RP 01/25/09 (exp -03/31/09)
$2.65 each after coupon
Hillshire Farm Deli Select Lunchmeats 2/$7
$0.55/1 RP 02/22/09
$2.95 each after coupon

PANTRY
Fiber One Bars 4/$10
$1.35/1 Chocolate Mocha HERE
$1.15 each after coupon

Kellogg's Cereal 4/$9
$0.70/1 HERE & RP 02/22/09
$1.55 each after coupon

Pillsbury Brownie Mix 2/$4
$0.35/1 RP 03/29/09
$1.65 each after coupon

DAIRY
Tropicana 2/$6
$1.00/ 1 RP 03/15/09
$2 each after coupon
Dannon Yogurt 10/$5
$.60/6 SS 3/15/09
$0.40 each wyb 6 after coupon
HEALTH & BEAUTY
Suave Shampoo $2.09
$1/2 RP 3/1/09
$1.59 each wyb 2 after coupon
Suave Deodorant $1.79
$0.75/2 RP 1/13/09
$1.42 each after coupon
View the entire advertisement HERE.
Baesler's offers Pump Perks on various items. You'll need a Preferred Perks card to participate. Get more details HERE.
Baesler's does not double coupons. Baesler's is located in Terre Haute, Indiana.
If you find another great deal or had a wonderful shopping trip to Baesler's Market, leave a comment and let us know!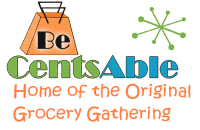 This post is a part of BeCentAble's Grocery Gathering.