MEAT, DELI, & SEAFOOD
Miller Amish Chicken Thighs or Drumsticks $0.99/lb

Frozen Turkey Drumsticks $0.99/lb

Farmland Smoked Ham Shank $0.99/lb

PRODUCE
Green Cabbage $0.39/lbs

Oranges 4 lb Bag $3.59

BREAD & BAKERY
———

PANTRY
Kellogg's PopTarts 4/$7
$1/1 RP 02/22/09
$0.75/1 after coupon

Del Monte Canned Tomatoes 4/$5
$1/12 RP 02/08/09
$0.40/1 No Salt Added Diced RP 02/08/09
$0.85-$1.17 after coupon

FROZEN
Birds Eye Steamfresh $5.99
$2/1 SS 03/08/09
FREE Steamfresh Rice or Veggie wyb SS 02/08/09
$3.99 each after coupon & FREE Rice or Veggies

DAIRY
Prairie Farms Milk 3/$3.99 (or $1.33 each)

Dannon Activia 2/$4
$1/1 SS 01/11/09 & 03/01/09
$1 each after coupon

BABY & KIDS
———-

HEALTH & BEAUTY
Colgate $3.09
$1.50/1 All You Magazine March
$1.59 each after coupon

HOUSEHOLD
———-

PETS
———-
View the entire advertisement HERE.
Baesler's offers Pump Perks on various items. You'll need a Preferred Perks card to participate. Get more details HERE.
Baesler's does not double coupons. Baesler's is located in Terre Haute, Indiana.
If you find another great deal or had a wonderful shopping trip to Kroger, leave a comment and let us know!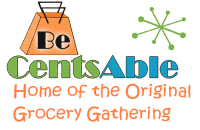 This post is a part of BeCentAble's Grocery Gathering.