To check out the full Kroger advertisement and deals for this week look HERE. It's the Mega Saving Event this week at Kroger. If you buy any combination of 10 items listed, you'll get automatic $5 off on top of your coupons. Limit of 3 per transaction. Great deals are listed below:
MEGA SAVINGS EVENT COUPON MATCH-UP:
Buy 10 items listed and get $5 off your purchase instantly. Limit 3 per transaction. The prices below assume you have already bought your required 10 items, so $0.50 per item is already deducted from the price to equal your $5 off. If you will not be buying 10 items, add $0.50 to the price listed.

Kraft Cheese Bars or Shreds $1.49

Lays $1.77 & Pepsi 12 pk $2.83
Pepsi/ Frito Rebate HERE

Final Price Varies
Chex

Mix $1.69
$0.50/1 (doubles to $1) SS 12/07/08$0.60/1 Load to Card HERE or HERE

$0.69 – $1.09 each after coupon
Coffee Mate Cream $2.79
$0.50/1 (doubles to $1) RP 11/02/08$1.50/1 HERE
$1.79 each after coupon

Fiber One Chewy Bars $2.19
$0.50/1 (doubles to $1) SS 01/04/09$0.75 Load to Card HERE

$1.19 – $1.44 each after coupon
Kleenex Facial Tissue $0.99
$0.50/3 (doubles to $1) SS 12/07/08 & SS 01/01/09
$0.66 each

wyb

3 after coupon
Kraft Mayonnaise or Miracle Whip $2.49
$0.75/1 SS 01/18/09

$1.74 each after coupon
Nature Valley Granola Bars $2.19
$0.50/1 (doubles to $1) SS 01/04/09
$1.19 each after coupon
Quaker Instant Oatmeal $2.19
$0.70/1 RP 01/04/09
$1.49 each after coupon
Orville Redenbacher 3 ct Popcorn $1.69
$1/2 SS 01/18/09
$1.19 each wyb 2 after coupon

OTHER DEALS:
Gain Laundry Detergent $4.99
$0.50/1 (doubles to $1) P&G 01/18/09
$1/1 Load to Card HERE
$3.99 each after coupon
Kroger Milk 1/2 Gallons $1.25
Kroger Bread $0.99Whole

Cantaloupe

$1.27Blueberries $1.67/pkgLean Cuisine Entrees $1.88
$1/2 HERE$1.38 each

wyb

2 after coupon
Kroger in my area doubles all coupons up to $0.50. Advertisements and deals vary by location, so please check your local advertisement to confirm these deals are valid in your area!
Did you find another great deal at Kroger that I missed or did I make a mistake? I'm only human! E-mail me and let me know or leave a comment!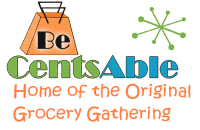 This post is a part of

BeCentAble's

Grocery Gathering.